Commercial Business Signs
When you visit a store, what is the first thing you notice? For most, the first thing customers notice is business signage. Commercial business signs are one of the most effective ways to promote your business and give your customers a great first impression. No matter the size or number of locations, companies should invest in commercial business signs to stand out amongst competitors and establish brand recognition.
Here are a few different types of signs to consider for your business:
Building Signs: Displaying commercial business signs on the exterior of your building is the first step in establishing yourself as a reputable business and creating a professional experience. When properly designed and installed, building signs work for you 24/7. At Barnett Signs, we offer turnkey custom sign services from design to fabrication and maintenance.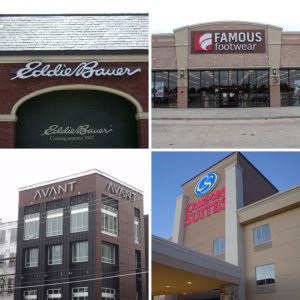 Roadside Signs: If your business is located on a busy road or highway, roadside signs are a great advertising tool. Companies can receive lots of exposure from a quality commercial sign displayed roadside. Roadside signs can also be illuminated so they work for your business even after the sun goes down. Barnett Signs specializes in producing roadside signs in a variety of custom shapes and sizes.
Hanging Signs: Hanging commercial signs are mounted to the exterior of a business and help attract the attention of patrons. These signs are available in a variety of sizes, shapes, colors, and materials. Whether you need help designing a hanging side or installing (or both!), Barnett Signs is here to help.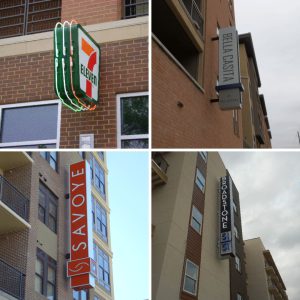 Reach Out to Us
Here at Barnett Signs, we have over 50 years of industry expertise servicing the greater North Texas region and have the right team, equipment, and experience to bring your commercial business signs to life. We offer exceptional support, fast turnaround, and friendly, local service.
If you're in the market for a new sign or would like to learn more about our services, reach out to us!
---
---